iSkater.COM

Iskater.Com is the site of the month!
Now, I do like this site because its always very updated. I also personally like the layout and the pictures but . . . you have to pay for the skating coverage and the board!
I'm a freebie kind of chick so this really gets on my nerves. The internet should be kept free so why is iskater.com charging $64.99 for 15 months of subscription to iskater? It states you recieve unique event coverage, complete site access, an electronic monthly newsletter and 15% off iskater branded merchandise. Ok, I believe you'll get what you pay for, but REALLY! Who would buy Iskater merchandise? (No Offense!)
The articles. Yes they are always updated but half the time the writing is horrible and cheesy ( I know I shouldn't criticize!) But the site is neatly organized. With all results easy to find plus they have archives! Overall the site is good but I just don't like it when you have to pay for an internet site! What can I say, I'm a Freebie Chick!
!FAB SKATER!
Overall Rating:
Photos: 9
Writing: 6
Appearance: 8
Information: 9
Organization: 9
Average: 8.2 !! ! !!!!!!!!!!!!
(10 being the best,1 being the worst)
SAMPLE PHOTO FROM SITE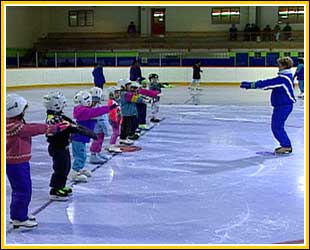 Headline: School is Now In
WWW.ISKATER.COM
More Information
iskater's content is driven by Paul Martini, 1984 World Pair Champion and President of iskater. -- As said on Site
None